Emergency Services Ergonomics
Ergowork has assisted the Queensland Fire and Emergency Services (QFES), Queensland Ambulance Services (QAS) and emergency services elsewhere in areas such as control room/call centre design and fitout, new fire appliance design reviews, furniture and equipment purchasing standards and training programs.
Specific projects have included the South east Queensland Emergency Operations Centre fitout and ergonomic design, QAS Spring Hill Call Centre fitout and design, QFES Kawana, QFES Southport and other sites and a customised retrofit sit-stand console top for existing QAS Call Centres.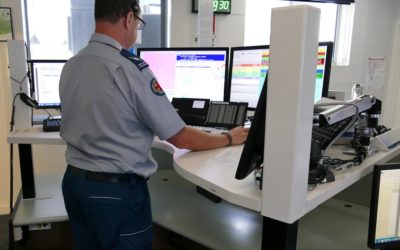 Queensland Ambulance has call centres in all provincial cities as well as two in Brisbane. Apart from the Kedron Emergency Operations Centre, these centres needed an upgrade from older sitting height consoles to a sit-stand version.
read more
Contact Us For Ergonomics Assistance