Ergowork has performed major work in this area including the ergonomic design input to the Rio Tinto Perth Remote Operations Centre, Roy Hill Operations Centre Perth, Woodside Pluto Connect Centre Perth, Qld Emergency Operations Centre Kedron as well as many other control rooms.
Control rooms can be designed to optimise ergonomics and the human factor or a critical opportunity can be wasted, with significant expense to follow.
Ergowork works efficiently to assist architects and their clients in achieving the best outcome for operators and the roles performed.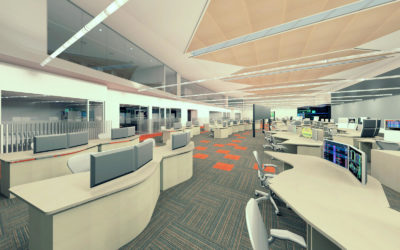 Ergowork provided the ergonomics and human factors input to the control room which houses some 50 consoles and workstations. The bespoke console design prepared by Ergowork was formalised by Lightbox Architects. Peter Hunt Architects performed the building...
read more
Ergowork analysed the onshore control room design and presented specifications for the room layout as well as identifying potential issues related to the OEM console design. The visual field required of operators for console and wall mounted displays was...
read more
Contact Us For Ergonomics Assistance